The Recipe For A Perfect Celebration Is As Follows:
- 1 thing to celebrate (I got a job!)
- 1 appetizer of baked brie (duh cheese is required for this recipe)
- Several glasses of wine, one of which must be sparkly
- 1 perfectly cooked piece of fish covered in some kind of butter sauce
- 1 silky smooth, delicious creme brulee that you barely have room for after that huge dinner
- A multitude of laughs with your husband at dinner
- A drive home from dinner that includes talk of buying your dream home
- Being so full you feel kind of sick but in a good way
- Mommy daddy sheet monster time (obscure 30 Rock joke)
- In bed by 8:30 because you're so full of butter and cream that you're super sleepy
- Bridesmaids in bed with your husband and pups
- Being so in the moment that you actually didn't take any pictures for once
What a happy happy Saturday night.
:)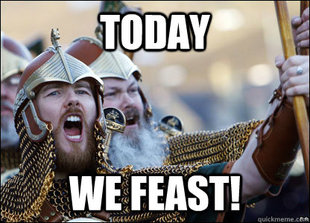 Because there's a meme for everything...