Currently I am...
Reading
: Just finished The Ocean at the End of the Lane and it was so weird and sad and good. I'm still reading the fifth Outlander book and need to start something new today that I can get through quickly since the Outlander books take so long to get through.
Writing
: This blog post. I'm still too sleepy to do much else.
Listening
: To Mike watching a soccer game and that's it. Both the pups are fast asleep after a long weekend at the kennel.
Thinking
: That I'm super sleepy and wish I had slept in more.
Smelling
: The coffee I'm drinking right now.
Wishing
: That all my extra working out would make me a littttle smaller, not just stronger.
Hoping
: For everything that's coming up to go smoothly. Lots going on, lots of changes happening...eeek!
Wearing
: Green and white striped pj shorts from Target and a white tank top. (The wonderful #YesAllWomen hashtag is the reason I didn't call this tank top a wife beater just then. Because, we shouldn't and it's gross and everyone needs to read some of those tweets this morning.)
Loving
: That Mike has today off and that the only items on my to-do list are to fax some documents and go to the gym. And that my legs were so sore yesterday after this crazy work out video my step-mom had me do with her. I love feeling sore.
Wanting
: To feel less anxious and to lose some weight.
Needing
: More money and stability for my future.
Feeling
: Twitchy. You know, where you want something to happen, but are not sure what and you just want to break out and run? But not in a bad way. I can't describe it.
Clicking
: Reddit, Bloglovin, Twitter, GoodReads, and Amazon.
A couple other things...
I have a tradition of taking this picture after we pick up our pups from the kennel when we've been out of town. Gizmo always spends the car ride on Mike's lap and he looks so happy and content the whole time. I hate kenneling the dogs!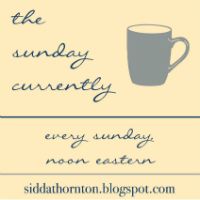 And don't forget to enter my awesome giveaway going on now here!