Happy October!

I cannot believe it's October already. It is for reals blowing my mind. Where did this year go?

Anyways, this October the lovely DC Ladies are doing a Blogtober again which I love because, hello, free blog ideas. Today's post is our Fall Bucket List.

Here's mine!
Get to know our new area. Mike and I are moving to Northern Virginia this weekend, so I definitely hope to spend a good part of this fall getting to know our new area and enjoying being closer to bigger/new cities. AKA eating at new restaurants. Wahoo!
Go on some hikes. We're going to live really close to a great park, so I need to bust out my winter running tights and get some cardio in, for sure.
Cute look, pants required.
Get some good pants. This is a dumb one, but seriously, I need some good pants now that I work in a casual environment AND it's getting cold. This Fall will not be great if I don't find some good fitting jeans. (Or lose weight and fit into my old jeans cough cough)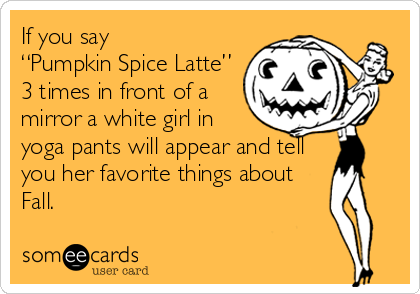 Not drink anything with pumpkin spiced in the title. (snarky goal)
Go wine tasting in Northern VA. This might not seem like the ideal time to go wine tasting, but there's something I love about bundling up and heading out to beautiful wineries in the colder months. We've never done a VA wine tasting trip and I just picture us sipping tasty wine in front of a fireplace or something.

What is your Fall bucket list?