For today's Blog Every Day in May Link Up, we're supposed to write about things that make you uncomfortable. Here are some of mine:
People that put your instead of you're. And just really bad grammar all around. It makes me uncomfortable because I want to fix it and it's not my place.
Part of this is because I was an English major, part because I'm a know-it-all, and part because I live with a tech writer/editor whose first response when he finally read my new
food blog
was, "I found some grammatical errors."
Driving. Just in general. I have been hit several times and Mike drives mostly now so I'm just a really uncomfortable driver. I'm always expecting to get hit.
When people's eyebrow hairs are out of place. This makes me really uncomfortable for some reason. I just want to fix it for them.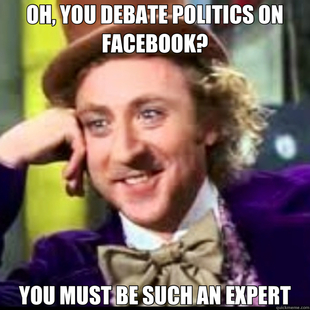 Discussing politics. I do not like arguing, it makes me incredibly uncomfortable. Election years are the worst.
Wearing jeans. This is a different kind of uncomfortable, but seriously...how uncomfortable are jeans? Maybe it's just my rockin' muffin top, but I effing hate wearing jeans.
People making out in public. I don't wanna hear it, I don't wanna see it, keep it to yo'self.
(Lesson learned: do not google image making out. Just don't.)
What are things that make you guys uncomfortable?